John Cox
Sports Massage Therapist – FTST, FHT
Profile
John is a Sports Therapist and owner of the practice with his wife Jackie.
They have worked hard to develope a dedicated team of practitioners to provide a professional and comprehensive service to deliver the best quality of care in a friendly environment.
John has over 20 years' experience and throughout has worked extensively with professional sports teams and athletes, cyclist, rugby, football and sports teams.
He worked for 3 years at Frickley Athletic FC, also a brief spell at Sheffield United. He has worked with local disabled athletes and with the TV Gladiators programme.
John has recently been working with the Sheffield Hatters Ladies Basketball team and team GB athletes.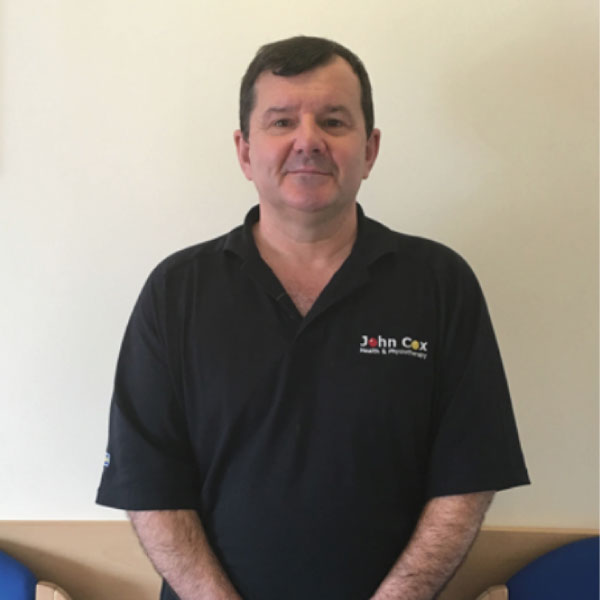 Qualifications
FTST Sports Therapy.
Diploma Fitness Training & Sports Therapy.
Assessment Treatment & Rehabilitation of injuries in Exercise & Sport.
Ultra-sound Therapy.
General Massage.
Health & Safety Executive First Aid.
Fitness Instruction & Gymnasium Management.
Fitness Testing & Physical Assessment.
John is a member of the Federation of Holistic Therapists (FHT).
BackCare Professional Associate Member
John is committed to reducing the impact of back pain. At his clinic he treats people of all ages with a wide range of injuries, Musculoskeletal problems and sports and overuse injuries.
Interests
John has always held a keen interest in snooker and has treated a number of referees and professional players, including Tony Buckley ( Yorkshire Champion) and Ian Glover ( Yorkshire Finalist)
He recently became a sponsor of Gary Wilson, a professional snooker player who, currently ranks on the top 40 of the World Professional listings
Directions
Based in the small town of Upton minutes from the A1 motorway and adjacent to the A638 you can find us right on the main street with ample off road parking.
Opening Times
Monday 8.00 am – 7.00 pm
Tuesday 8.00 am – 7.00 pm
Wednesday 8.00 am- 7.00 pm
Thursday 8.00 am – 7.00 pm
Friday 8.00 am – 6.00 pm
Saturday 8.00 am 2.00 pm
Other appointments available upon arrangement  |  Sunday by appointment  |  Home visits available upon arrangement.